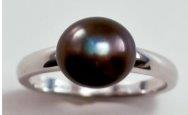 The black pearl ring I ordered is brown
i want a black pearl ring. I was so dissapointed.
Pearls are found in nature the color they exist. The light reflecting off the nacure of the pearl will give it a rainbow effect and with light and movement change the hue our mind sees.